Host a Carnelian Knoll show
Home | Gallery | Bridal | Where to buy | Mailing list | Contact
---
Host a show and get at least $100 in Carnelian Knoll dollars--or cash for your charity.

As a fundraiser for your favorite organization or charity--which could be you, following the "Tupperware model"--private group shows are wonderful fun and can be quite lucrative. Here's how it works:

You gather 10 or more guests (including yourself) who are interested in purchasing Carnelian Knoll creations and invite them to your home or office. Carnelian Knoll will provide customized invitations (like the one below) and, of course, the jewelry. You provide the venue and snacks for the guests. Together we'll have a few hours of fun schmoozing and shopping. Sometimes clients even bring outfits that they are looking to accessorize.

For hosting a show with the required minimum number of guests, I will give you or the charity of your choice $100 plus 15% of the sales over $1,000--cash for the charity, Carnelian Knoll dollars for you. So, a show that brings in, say, $1,500, will net you or your charity of choice $175 (that's $100 plus 15% of $500); a show that brings in $3,000 will net $400 ($100 plus 15% of $2,000).

Shows may be scheduled in the New York metropolitan area. (Let's talk if you'd like to host a show outside the New York metro area.)

: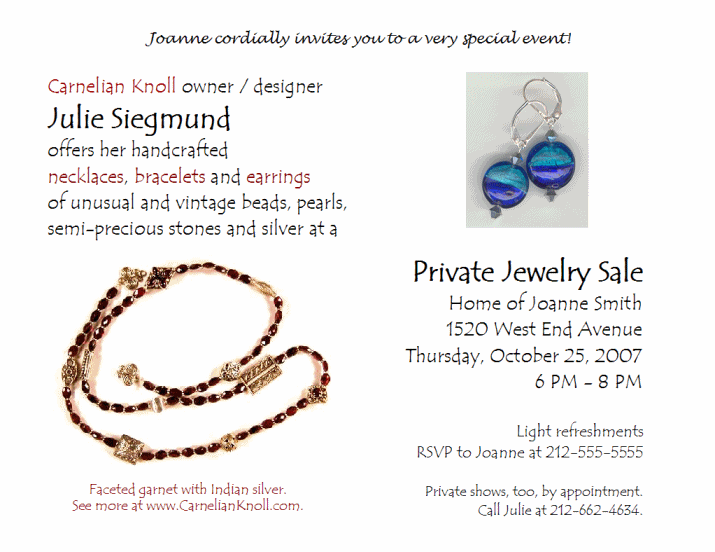 To host a show, just fill out the form below, then click the "Submit Form" button. Julie Siegmund will contact you to make arrangements.
---


Jewelry designs and site content © 1998-2010 Carnelian Knoll.
Content contact: Julie Siegmund
Last updated: October 23, 2010
Technical contact: Steve Friedman