Bridal
Home | Preview the new Carnelian Knoll Store
Gallery | Where to buy | Host a show | Mailing list | Contact
---
Looking for a special way to say thank you to the members of your bridal party? Carnelian Knoll designs are just the thing. Personalized, yet coordinated, helping you achieve the look you want for your attendants.

Julie Siegmund specializes in working with brides and their families to create customized, memorable adornments. Contact her for a consultation.
---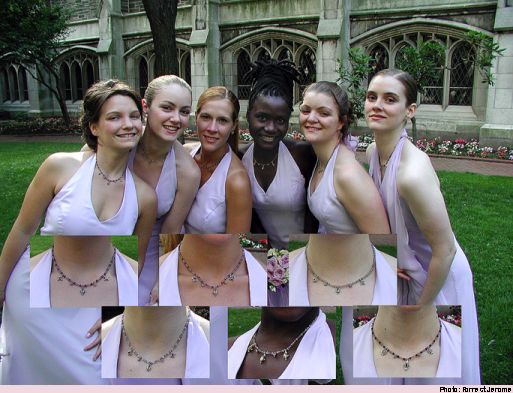 The amethyst beads used as a common element in this bridal party's necklaces are separated by 19th century French steel-cut seed beads. The bride chose different-colored accent stones for each bridesmaid (dark amethyst, peridot, citrine, iolite, garnet and rose quartz). The necklaces were completed with a variety of silver beads and glass or stone charms from India.
---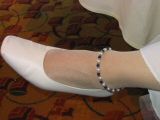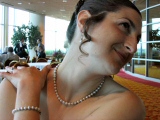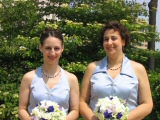 Naomi selected a silver and pearl set for herself and sodalite, silver and pearl for her bridesmaids.
For fun, she wore "something blue" on her anklet to match the bridesmaids necklaces.
---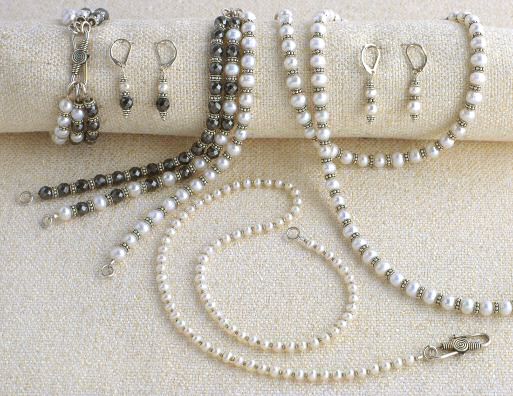 Cultured freshwater pearls are enhanced by beautifully-crafted Turkish sterling. These necklaces can be combined with semi-precious stones or vintage glass in any color to complement your bridal party's attire.